Cost per session: $15
Sponsor an event: $54
RSVP necessary [email protected], 845.225.4770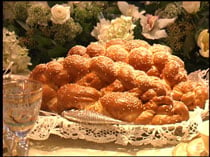 Sunday, October 22nd, 2023 5:30pm
Celebrating the beautiful tradition of baking Challah that has been passed down through the generations. This year's twist will be creating delicious Challah napkin rings to enhance your Shabbat table.
Sunday, December 5th, 2023 5:30pm
Learn about different types of oils and their application in culinary dishes. Prepare a unique flavor infused olive oil and get in the
Chanukah spirit.


Sunday, January 14th 2024 5:30pm
Melt, pour and dip as you create beautiful scented citrus candles to brighten your home. Taste and exchange delectable salad recipes
in honor of Tu Bishvat.
Sunday, March 17th, 2024 5:00pm
Help the community by packing food baskets and baking delicious hamantashen; take home some hamantashen for the Purim holiday